"CUSTODIAN"
CUSTODIAN - CUSTOMIZED PHOTONIC DEVICES FOR DEFECTLESS LASER BASED MANUFACTURING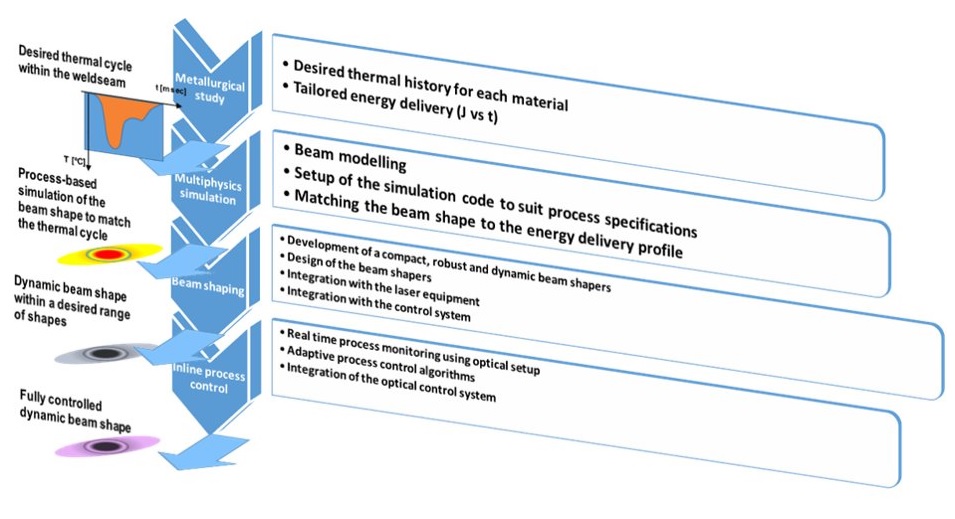 DESCRIPTION
Different beam shaping technologies appeared in recent years enable to tailor energy delivery using a tailored spacial and temporal power distribution in laser beam. This makes possible to solve relevant metallurgical problems such as hot cracking in laser beam welding (LBW) and selective laser melting (SLM). However the desired thermal history (temperature range and cooling rates) is specific for each material. In other words, it is material and process-specfic so the exact beam shape must be customized to the specfici alloy and process in question.
This is not exclusive to LBW and SLM, but also to other laser-based manufacturing scenarios where a certain thermal history is needed for precise microstructure tailoring. CUSTODIAN aims to develop a methodology of application-driven laser beam tailoring of the material microstructure and deploy this beam to solve hotcracking in LBW and SLM.
CUSTODIAN will rely on beams with specific shape and spatial energy distribution, designed upon the metallurgical studies and multiphysics simulation for each combination of process and material.

To acomplish the deployment of customized beam shapes in relevant industrial environment, the consortium will perform a twofold photonic development: a compact, robust and dynamic beam shaping technology (Multi plane light conversion MPLC) and a colsed loop inline control system based on uncooled SWIR / MWIR sensors and FPGA architecture to ensure the quality and dynamicity of the beam shape requirements. The application scenarios of CUSTODIAN are:
-LBW of austenitic steel for exhaust systems in automotive
-SLM of nickel superalloys in energy and aeronautical fields.


OBJECTIVES
There are two main objectives in the CUSTODIAN project:
1 To establish a general methodology of application-driven laser beam customization based on four main
pillars: tailored microstructural evolution, multiphysics simulation of laser-based processes, beam shaping
and process control. The first two are essential for the adequate development of optical equipment (beam
shaper, laser head, control system), being driven and conditioned by the combination of process and material.
2 To deploy and demonstrate this methodology on two relevant manufacturing scenarios: Laser Beam
Welding (LBW) of austenitic steel sheets for automotive industry and Selective Laser Melting (SLM) of 2
nickel-based alloys (In713LC for power generation industry and CM247LC for aircraft industry) to solve a
problem of hot cracking which is the common denominator of these two scenarios.

By achieving these main objectives, between 95-98% of defects will be eliminated in LBW / SLM parts, leading
to production time decrease respect to the traditional manufacturing in 70 percent (LBW) and 83 percent (SLM) while
reducing the total costs in 20 percent (LBW) and 60 percent (SLM).


PUBLISHED NEWS
PROJECT WEB
PARTNERS
AIMEN, POLIMI, TUW, CAILABS, PRECITEC, NIT, MAGNETI MARELLI, GFM, SECPHO,
GRANT
This project has received funding from the European Union's Horizon 2020 research and innovation program under grant agreement No 825103 This project is an initiative of the Photonics Public Private Partnership www.photonics21.org 644.687,50 €