"FUNGISTOP 20-21"
FUNGISTOP - DEVELOPMENT OF PAINTS WITH ANTIFUNGAL PROPERTIES THROUGH THE ADDITION OF BIOCIDALS OF NATURAL ORIGIN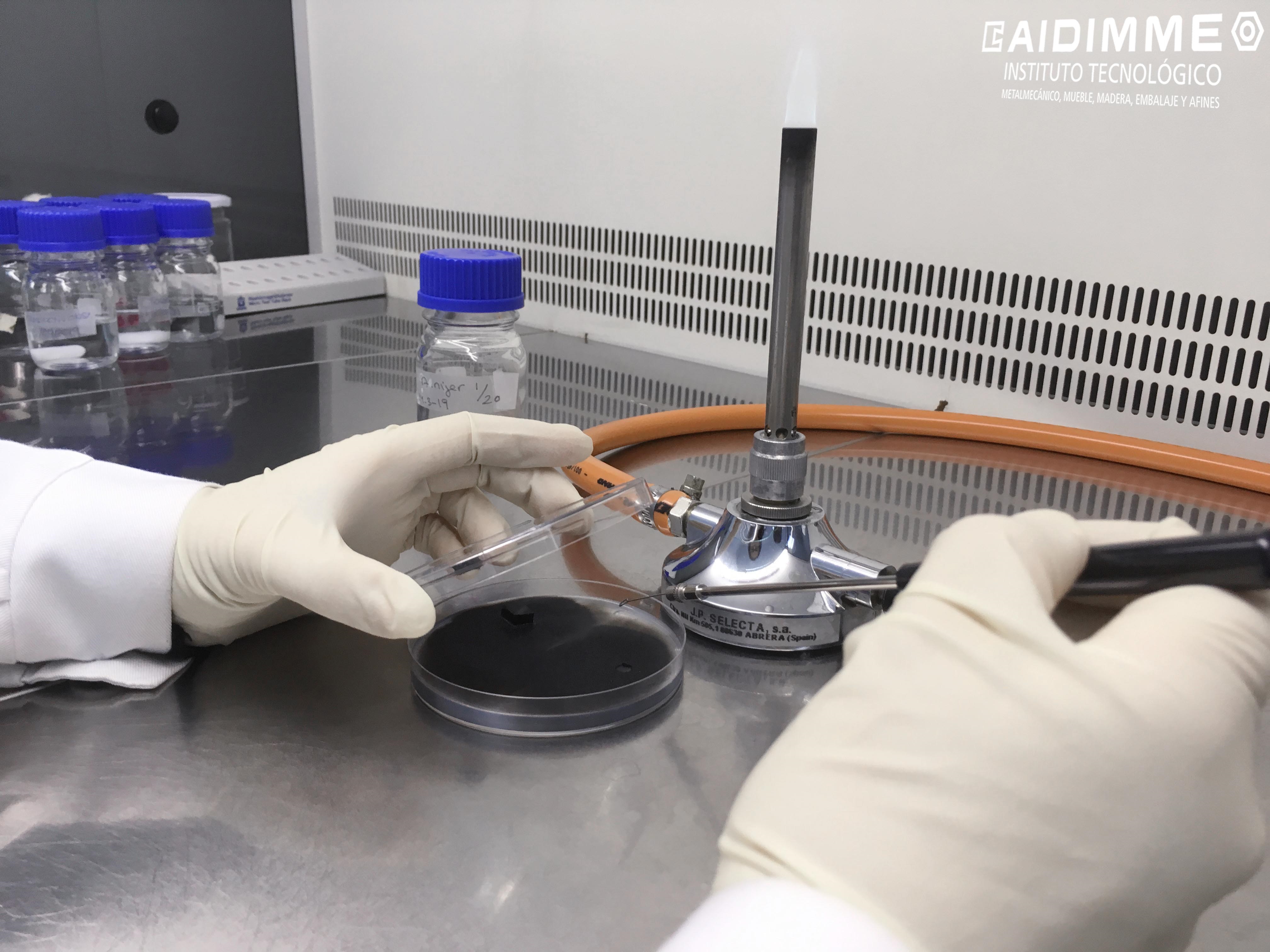 DESCRIPTION
The FUNGISTOP project will develop paints that are characterized by maintaining hygienic indoor environments by applying biocides that limit the development of fungi. The biocides used will be of natural origin in order to preserve the environment, from two points of view. First of all, due to the biodegradability of the natural biocides used. And secondly, and to achieve a greater durability of the response of the biocide over time, totally innovative additives will be studied in the industry. In these new additives, the biocidal active ingredients are anchored by covalent bonds to inert supports. With the anchoring of the active biocidal compounds of natural origin by means of strong covalent bonds, we want to avoid their total release in the short term and thus increase, in a quantitative way, their useful life.
OBJECTIVES
The objectives of the project are:
- Study and select biocides of natural origin modified by the covalent union of the active principle to inert supports.
- Evaluate the fungicidal / fungistatic activity of these new selected biocides.
- Compare the fungicidal / fungistatic activity of these new biocides with that obtained in the essential oil microcapsules with demonstrated activity in the ANTIBACTERIAL project.
- Develop and optimize procedures for incorporating and applying these new biocides to paints.
- Evaluate the fungicidal / fungistatic activity of the paints with the new biocides before and after aging.
- Compare the fungicidal / fungistatic activity of these new biocides in paints, with that obtained in essential oil microcapsules before and after aging.

RESULTS OBTAINED
Año 2021: La aparición de mohos y hongos en las superficies pintadas es una problemática no solo de carácter estético sino que también puede ocasionar deterioros en los materiales a veces irreparables. Pero, si bien es cierto que, en la mayoría de casos, la industria ha podido revertir la situación con la adición de sustancias fungicidas de origen sintético, es posible que con ello aumente el riesgo que supone al medioambiental. Por esta razón, en el proyecto FUNGISTOP se están estudiando alternativas de origen natural. Para ello, se han adquierido y evaluado distintos extractos de aceites esenciales encapsulados que, además se funcionalizan para aumentar su durabilidad con el tiempo. Se han estudiado diferentes productos con propiedades antifúngicas, y de todos ellos, los hongos han mostrado una extrema sensibilidad a los compuestos por la sustancia activa timol.
---
Year 2021: The appearance of molds and fungi on painted surfaces is a problem not only of an aesthetic nature but it can also cause deterioration in materials, sometimes irreparable. But, although it is true that, in most cases, the industry has been able to reverse the situation with the addition of fungicidal substances of synthetic origin, it is possible that this increases the risk it poses to the environment. For this reason, the FUNGISTOP project is studying alternatives of natural origin. For this, different encapsulated essential oil extracts have been acquired and evaluated, which are also functionalized to increase their durability over time. Different products with antifungal properties have been studied, and of all of them, fungi have shown extreme sensitivity to compounds with the active substance thymol.
PUBLISHED NEWS
GRANT
162.750 €
---
Objective Sectors by CNAE
CNAE: 2030 - Manufacture of paints, varnishes and reve - Number of target companies: 327 (99 in the Valencian Community)
Objective Sectors by Activity
PAINTS AND VARNISHES - No. of target companies: 358 (111 from the Valencian Community)
MAIN COMPANIES
Thanks to its support and signature of the "declaration of participation" the project has been funded.
BARNICES Y PINTURAS ANDRES, SL
BARNICES Y PINTURAS VICUR, SL
BARNICES MONTOROSANZ, SLU
COMPANIES DIFFUSION R&D PROJECTS
They want to know first-hand the evolution of the project, and its progress to the final result.
COMPANIES TRANSFER KNOWLEDGE
They will implement technologies, develop strategies or look for new models based on the results.