"IPRODUCE"
IPRODUCE - A SOCIAL MANUFACTURING FRAMEWORK FOR STREAMLINED MULTI-STAKEHOLDER OPEN INNOVATION MISSIONS IN CONSUMER GOODS SECTORS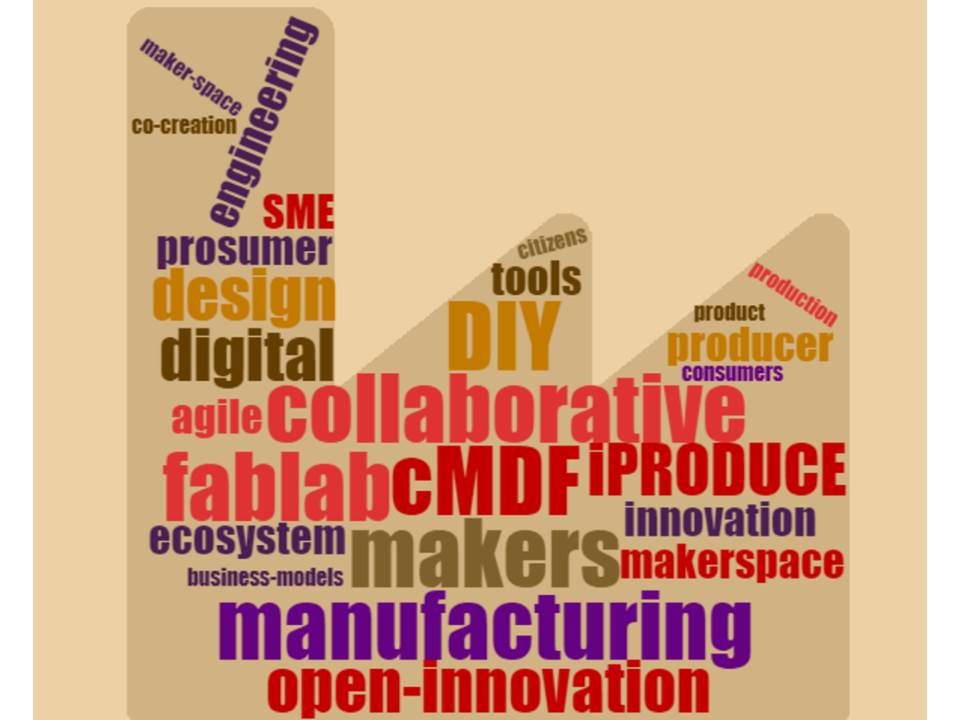 DESCRIPTION
Democratized innovation holds undeniable promise for European producers, but the integration with corporate innovation practices is in its infancy. While the interest is real, it is still neither easy or efficient for producers - especially SMEs to benefit from collaborative production. The iPRODUCE project takes well proven concepts and approaches (from DIY manufacturing, FabLabs, Makerspace), and aims to upscale them through innovative technology solutions and to install them in well-connected multi-stakeholder ecosystems under an umbrella concept of collaborative Manufacturing Demonstration Facilities ( cMDF) ".
We organize our work under a social-manufacturing platform that enables multi-stakeholder interactions and collaborations to support user-driven open-innovation and co-creation. At the heart of the iPRODUCE platform is an open digital space supported by a set of innovative tools that cover matchmaking, secure interactions, generative product design, process orchestration, agile prototyping, usability evaluations and lifecycle management. We complement these technical tools with a strong social component that aims at easing the notorious hardship of engagement with makers and aim to open up to new maker segments, while we improve on SoA tools for Lead User Innovation identification.
The iPRODUCE platform will be deployed in six local 'ecosystems' which cover different levels of maturity with collaborative production, diverse objectives and application areas spanning from home furnishing, automotive / mobility, consumer photography, medical ecquipment and more. The platform supports knowledge and resource sharing across cMDFs and all our results will be monitored and evaluated.
OBJECTIVES
1.- To define a social manufacturing framework (SMF) for the collaborative design, engineering and manufacturing of consumer goods by engaging manufacturers, makers and consumers (MMCs) in relevant open innovation (OI) challenges / missions.
2.- To create and establish local Collaborative Manufacturing Demonstration Facilities (cMDF) by
interconnecting and enriching existing micro-manufacturing facilities. For this purpose various local stakeholders are
expected to 'join' facilities / infrastructure to support
3.- To develop and deploy a digital platform that will facilitate the activities of the local cMDFs and will allow
them to operate independently (at local level) under a loose federated organizational structure (at European level)
4.- To develop and deploy a set of digital tools that will stimulate co-creation and open innovation in the
consumer goods sectors; (including also the development of e-training sessions, recommendations for green
production engineering, recycling / repairing and circular economy approaches), etc.
5.- To introduce social media-driven consumer and makers engagement strategies
6.- To devise novel sharing economy business models and IPR management strategies and tools to simplify
and automate multi-stakeholder interactions. (business models for shorter time to market product engineering; Build
trust through smart contracts and tokenization of work and IPR)
7.- To integrate the social manufacturing framework, the digital platform and the digital tools into a social
manufacturing space
8.- To define the iPRODUCE open innovation challenges and validate and demonstrate the proposed social
manufacturing space through 5 pilot cMDFs and 15 open innovation missions in 4 consumer goods subsectors

PUBLISHED NEWS
RELATED URL´S
PROJECT WEB
PARTNERS
AIDIMME - COORDINATOR, LAGRAMA, SL, FHG-IPK, INFORMATION CATALYST FOR ENTERPRISE, F6S NETWORK LIMITED, CERTH, ZENIT, MSB, MATERALIA, FABLAB VOSGES, EXCELCAR, ENERGY @ WORK, TRENTINO, CBS, BETAFACTORY, AIDPLEX, EUROPEAN DYNAMEARICS, WHITE RESERVATION, WHITE , OCEANO NARANJA SL,
GRANT
This project has received funding from the European Union's Horizon 2020 research and innovation program under grant agreement No 870037. € 5.983.662,49
---
Objective Sectors by CNAE
CNAE: 0990 - Support activities for other industries - No. of target companies: 1 (1 from the Valencian Community)
CNAE: 8532 - Technical and vocational secondary education - No. of target companies: 21 (13 from the Valencian Community)
CNAE: 3102 - Manufacture of kitchen furniture - Number of target companies: 652 (153 from the Valencian Community)
CNAE: 3101 - Manufacture of office furniture and e - Number of target companies: 503 (106 in the Valencian Community)
CNAE: 9524 - Repair of furniture and menial articles - No. of target companies: 5 (3 from the Valencian Community)
CNAE: 3109 - Manufacture of other furniture - No. of target companies: 5517 (1305 in the Valencian Community)
Objective Sectors by Activity
SUBCONTRATISTAS - Number of target companies: 6 (2 of the Valencian Community)
WOOD CARPENTRY - Number of target companies: 225 (139 of the Valencian Community)
TRAINING CENTERS - Number of target companies: 18 (9 of the Valencian Community)
DESIGNERS / DECORATORS - Number of target companies: 144 (76 of the Valencian Community)
MAIN COMPANIES
Thanks to its support and signature of the "declaration of participation" the project has been funded.
COMPANIES DIFFUSION R&D PROJECTS
They want to know first-hand the evolution of the project, and its progress to the final result.
COMPANIES TRANSFER KNOWLEDGE
They will implement technologies, develop strategies or look for new models based on the results.