"EFACTORY - EPFP"
EFPF - EUROPEAN CONNECTED FACTORY PLATFORM FOR AGILE MANUFACTURING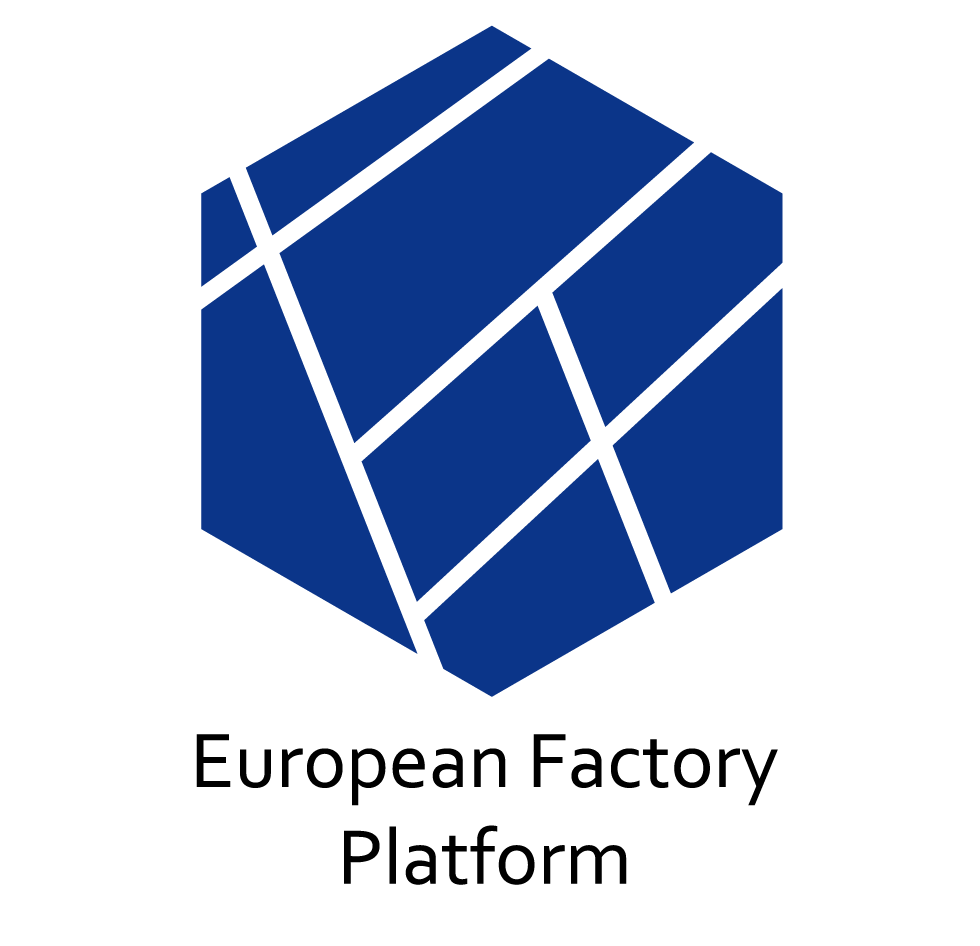 DESCRIPTION
The eFactory project realizes a federated smart factory ecosystem by primarily interlinking 4 smart factory platforms, from the FoF-11-2016 cluster, through an open and interoperable Data Spine. The federation of the 4 base platforms is complemented by industrial platforms, collaboration tools and smart factory systems, specifically selected to support connected manufacturers in lot-size-one manufacturing. The federated eFactory platform delivers enhanced values ​​and reduces the barrier to innovation by providing seamless access to services and solutions that are currently dispersed. In parallel the platform provides the necessary infrastructure, tools and support for novel service creation and validations by third parties. Further, by fostering healthy competition in the smart factory ecosystem, the eFactory platform will ensure that the needs of the evolving smart manufacturing industry are met for the long term. The eFactory federation is offered to the manufacturing and logistics companies as an open platform; to utilize the offered functionality, experiment with innovation approaches and develop custom solutions based on specific needs. The project demonstrates the power of federation through 3 embedded large scale pilots focusing on lot-size-one manufacturing and sustainable value networks in various sectors, while a cross sectorial circular economy pilot is also incorporated. The results of the pilots are openly made available as lessons learned and best practices.
The creation of the European smart factory ecosystem is supported by offering interested technical and financial support. A dedicated budget is allocated to offer financial support to companies who are interested in using the eFactory platform to enhance their businesses. The project is primarily composed of SMEs who have the agility to quickly react and adopt innovative solutions, while experience and market reach of big players such as Airbus and Siemens is also leveraged.
OBJECTIVES
Objective 1: Form a technology platform for cross-organizational and cross-sectorial integration, with embedded intelligence and embedded tools and services to create an industrial ecosystem in Europe.
Objective 2: To enable SMEs and mid-caps to develop and / or integrate different technologies, unlock the value of their data, deploy complementary applications, and to become more responsive to changing value-chains.
Objective 3: Extensible Marketplace Framework to interlink tool and App stores through intelligent service discovery, match-making and recommendations mechanisms.
Objective 4: Ecosystem creation through piloting and large scale experimentation, including the setup.
Objective 5: Realization of scenarios for the extensions, maintenance and sustainability of federated eFactory platform and its ecosystem.
Objective 6: Develop a comprehensive adoption strategy to attract large number of SMEs and mid-caps to the eFactory ecosystem.



PUBLISHED NEWS
RELATED URL´S
PROJECT WEB
PARTNERS
COMMISSION EUROPEAN COMMUNITIES, CONTROL 2K, AIDIMME - COORDINATOR, FHG-IPK, ASCORA, INFORMATION CATALYST FOR ENTERPRISE, SRFG, LAGRAMA, SL, SRDC, IT INNOV, CERTH, SIEMENS, ISMB, VALUECHAIN, FORTISS, NEXTWORKS, ALMENDE, HAW, CNET, KLEEMANN, ELDIA, CAIXA MAGICA, BRIMATECH ELANYO, WOM, INNOVINT, AM ALLIED MAINTENANCE, 3D ICOM, AUSTRIAN STANDARDS, MIL OIL,
GRANT
This project has received funding from the European Union's Horizon 2020 research and innovation program under grant agreement No 825075. TOTAL: € 13.640.264,01 - AIDIMME :: € 350.000
---
MAIN COMPANIES
Thanks to its support and signature of the "declaration of participation" the project has been funded.
COMPANIES DIFFUSION R&D PROJECTS
They want to know first-hand the evolution of the project, and its progress to the final result.
COMPANIES TRANSFER KNOWLEDGE
They will implement technologies, develop strategies or look for new models based on the results.