"LIFE-2-ACID"
LIFE-2-ACID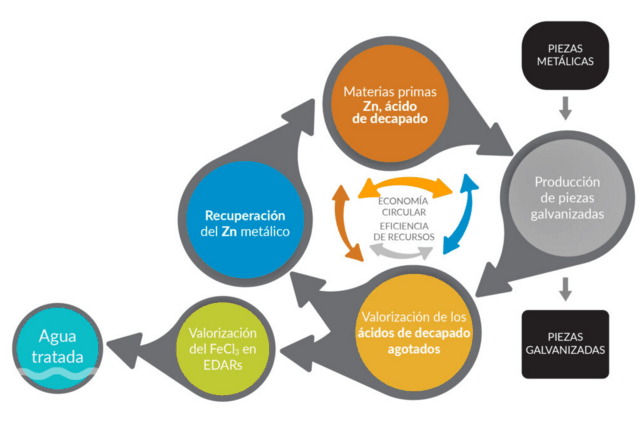 DESCRIPTION
The aim of LIFE-2-ACID project is to demonstrate a new technology that allows the selective recoveryof metal zinc and iron chloride from Spent Pickling Acids (SPAs) generated in galvanizing processes,
thus minimizing their environmental impact.
The project will demonstrate the ugliness of a sustainable alternative for the valorization of most
SPAs, by means of the recovery of their metals content. The recovered zinc will be reused in the
galvanizing process, while iron chloride is employed worldwide as coagulant in wastewater treatment process, promoting the efficient valorization of resources according to EU roadmap.
OBJECTIVES
· Demonstration of innovative technology that allows to recover 90% of the non-renewable metallic resources contained in the SPA.
· Reduction of 90% waste generated by current treatments of SPA.
· Validation of a new technology to enhance the recovery process of SPA demonstrating its replicability in EU galvanizing process through a Transferability and Replicability Plan.
· Promotion of a more sustainable technology towards the circular economy in the galvanizing sector to be considered as BAT in the EU policies.
Maximize the impact of the actions and means involved through a Communication Plan.